Redlands AAUW   
A message from the President of AAUW
Dear AAUW Friends,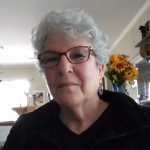 This is my last President's letter to my wonderful girl gang! It has been a remarkable year.  We managed to get back to meeting live, then back to Zoom and then back to live.  Our committees and interest groups are also back to meeting live, and we're all so happy to see one another face to face.
We started a terrific DEI (Diversity, Equity and Inclusion) focus this year, with a Racial Justice discussion group, which helped us to understand racism in our own lives. Many of our speakers this year emphasized DEI issues.
We appointed a new DEI Coordinator, Ellen Gruenbaum. We met with Dean Mario Martinez from the University of Redlands School of Education to discuss ways that we could collaborate, especially on issues of Diversity. And my term is ending with our participation in the Juneteenth Celebration on June 19th in Sylvan Park.  This should be an exciting event, which will promote AAUW and our Mission to a diverse audience. A committee to plan our participation will meet on May 19th at 6:30 on Zoom.  If you are interested in joining this committee, please email or text me, and I will send you the Zoom link. We need ideas for how to make our table interesting and attractive to present what AAUW does—not only our mission and goals, but also our many interest groups and various activities.  Any interest group chair who may have posters and/or pictures of their activities available to adorn our table would be greatly appreciated. These would be a great addition. If you want more information about the Juneteenth Celebration, go to "StrongerTogetherNow" website. It is the organization coordinating this event.  All of these DEI and fundraising activities will help us to qualify for being awarded a 5-Star Branch designation, something that our Branch richly deserves.
I intend to continue being active in Racial Justice/DEI activities for the up-coming year. I look forward to a great 2022-23 year full of fun and stimulating activities. Thank you all for helping to make this year so productive. I wish Patricia Stubbs (our next year's President) all my sincerest good wishes. She deserves everyone's energetic and enthusiastic cooperation. Tricia, I've got your back!!
All my best,
Erica
President, AAUW Redlands
View our most recent meeting: 
News
If you are interested in joining AAUW, or have questions, please contact us at membership@aauw-redlands-ca.org!  
Want to donate to Redlands AAUW without it costing you a penny! Use Amazon Smile, here's how!