Redlands AAUW   
A message from the President of AAUW
LUNAFEST is taking place on Friday, May 13th 2022. You can partake live or virtually. To learn more, click here. 
Dear AAUW Friends,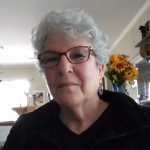 The end of March and beginning of April has been a great time for Redlands AAUW.  Our April Branch meeting continued our focus on Diversity, Equity, and Inclusion (DEI), with our speaker Sandra Portocarrero presenting her Ph.D. research on diversity in organizations. The meeting was recorded and can be seen on our website if you missed it.  At our May 3rd Branch meeting we will be treated to a presentation about the new Museum of Redlands.
The last "I Am, Therefore I Think" meeting was a terrific presentation by Jenna Guzman Lowery on "Hopelessness," which, in fact, did not leave the group feeling hopeless after a deeply moving discussion.  April's "I AM…" meeting should be great when we each try to "Tell our life stories in three minutes." Storytelling could be a great way to get to know each other better and to help us figure out where we want to go and how we can diversify.
We had five guests from the Ontario Branch at our April meeting.  We had hoped to have three more from Palm Springs, but they lost their driver to a broken foot. We are hoping to make inter-branch cooperation a more usual occurrence.  The Quarterly Southeast Interbranch Council (SEIBC) meeting, chaired by Patty Ahearn from our branch, will be held on April 23rd on Zoom at 10:00 AM.  It's a chance to meet members of other nearby branches.  Let Patty know if you are interested in attending (Zoom link:  https://us06web.zoom.us/j/86124790160?pwd=S0kveC9jUytoY1lwNGgxbVFSVm1tZz09
After our March Branch meeting, at which Dr. Mario Martinez (Dean of the U of R School of Education) was our guest speaker, three of us met with him to discuss ways in which we could cooperate on future DEI projects.  It was a very productive meeting. We were invited to send five of our members to their awards dinner for Faculty, Students and Alumni on April 15th, where we will be able to introduce ourselves and tell them about all the things we are doing.  We will report back in next month's newsletter. Some of the ideas we came up with on how we can mutually benefit each other include joint speaking engagements at various community organizations; providing networking and mentoring to their students by our numerous current and retired teachers; extending our Nancy Yowell Scholarships to their qualified returning students.  We may be able to attract new AAUW members from their midst.  At the moment, the Racial Justice/DEI Committee is taking the lead in this endeavor, but we are anxious to have many of you participate – especially you teachers and those who have been part of the College/University Partnership Committee, chaired by Pam Ford and Susan Bangasser (who will be one of those attending the School of Ed dinner on the 15th).
I wish the World was in as positive and hopeful a state as we are at our AAUW Branch.  Our thoughts are certainly with the people of Ukraine.  I, in particular, can't avoid thinking about what is going on there…my grandparents emigrated from Ukraine at the turn of last century to avoid the Pogroms that massacred hundreds of thousands of Ukrainian and Russian Jews, leading up to the Holocaust.  And my daughter-in-law came to the U.S. from Ukraine in 1988, after her father, who was a "Refusenik," spent some time in a Russian prison.  I can only hope that by the time you read this newsletter, the War in Ukraine will be over, and we will be helping them rebuild.
See you all at the May 3rd Branch Meeting.
All my best,
Erica
President, AAUW RedlandsView our most recent meeting: 
News
If you are interested in joining AAUW, or have questions, please contact us at membership@aauw-redlands-ca.org!  
Want to donate to Redlands AAUW without it costing you a penny! Use Amazon Smile, here's how!