Redlands AAUW   
Pay for your meal ahead of time!
Brunch Payment (Saturday Meetings)
Dinner Payment (Tuesday Meetings)
We are now accepting donations for our Adopt-a-STEM-Girl initiative:
Adopt a STEM Girl Today!
Thank you for considering our branch on Giving Tuesday! Donations will support our Mission Fund.
Make a Giving Tuesday Donation!
A message from the Co-Presidents of AAUW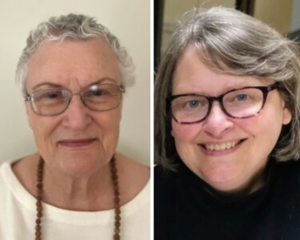 How exciting it was to have nearly 50 guests at our October Membership Branch Meeting – people interested in AAUW mission and projects to increase equity and equality for women and girls.   Thirty seven guests joined our busy chapter. A special thank you to Amy Bisek and her committee for organizing the event so thoroughly.
Congratulations to Susan Bangasser and Pam Ford, cochairs of College/University Partners.  They applied for and received a $3500 grant from San Manual Band of Mission Indians to send more young student leaders to AAUW's National Conference for College Women Student Leaders (NCCWSL) conference which will be held in June 2024 at the University of Maryland.
Our November Branch meeting is our Annual Boutique.  Come ready to start your holiday shopping.  There will be hand crafted items, jewelry, purses to purchase and a   quilt to bid on.  The funds raised benefits the Nancy Yowell Scholarship recipients.
News
If you are interested in joining AAUW, or have questions, please contact us at membership@aauw-redlands-ca.org!  
Want to donate to Redlands AAUW without it costing you a penny! Use Amazon Smile, here's how!