Redlands AAUW   
A message from the President of AAUW
2021-2022 Membership Forms are available now. Click here.
Hello AAUW Friends,
Erica Wilson here! I'd like to introduce myself to you all.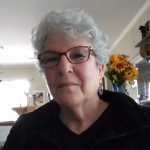 I'm the new AAUW President. Our President-Elect (and my right-hand woman) is Trish Stubbs. We are looking forward to the 2021-22 year, which we all hope will be less crazy than the past "pandemic year." We are grateful to Sue Wallace, our past-president, for making our Covid-19 year as successful as it has been. In meeting with other AAUW Branch officers at the Interbranch Council (held on Zoom), it became clear to me that our Branch flourished, remaining open and productive. We all learned to use Zoom in ways we never expected.
We had monthly Branch and Board meetings via Zoom and had some exciting speakers and Thoughts for the Month…all on Zoom. STEM had a remote conference, using the available technology in extremely imaginative ways. Many of our interest groups and programs continued to meet on Zoom–I Am Therefore I Think, Reading and the Rainbow, Great Discussions, Racial Justice, Public Policy, Lunafest, Tech Trek, Speech Trek, and the Nancy Yowell Memorial Scholarship. We even did a Footlighters fundraiser (Dancing the Distance), outside and six feet apart. I'm sure all those groups who were unable to meet remotely are looking forward to getting back together again live.
The coming year will present its own challenges. With most of us vaccinated and the State re-opening, we can return to a more normal life. We are scheduled to have our Branch meetings live at the U of R Casa Loma Room, with a return to brunch and dinner meetings. We have missed the in-person social time and the ability to ask questions of our speakers and have discussions amongst ourselves. I am hoping to figure out how to make our meetings hybrid, providing Webinar capabilities for those of you who prefer to remain remote or who may be out of town for a meeting you would like to be part of.
Our first Branch meeting is Saturday morning, September 11–9:00 social and 9:30 brunch. You will be sent the RSVP email shortly before the meeting (the same way it was before Covid), so you can reserve your spot. The September meeting is our big new member push, so you can invite your friends and prospective new members. There is a membership fee reduction if they join at a Branch meeting. We hope this will be a year of regrouping and expanding. Our membership declined a little over the Covid-19 year, and we are looking to revive the status of our fabulous organization.
I am including a list of our Board members and Program Chairs. I am looking forward to working with all of them. Thank you for the opportunity to be your president this year. I hope to see you all in September.
Truly Yours,
Erica Wilson
President, AAUW Redlands branch
News
If you are interested in joining AAUW, or have questions, please contact us at membership@aauw-redlands-ca.org pr follow us on our facebook page, AAUW Redlands.
Want to donate to Redlands AAUW without it costing you a penny! Use Amazon Smile, here's how!