Redlands AAUW   
Have you purchased your tickets for the 75th Anniversary of Redlands AAUW Diamond Jubilee? Click Here to Learn More!
Need to pay your membership dues? Click Here to Pay Online!
A message from the President of AAUW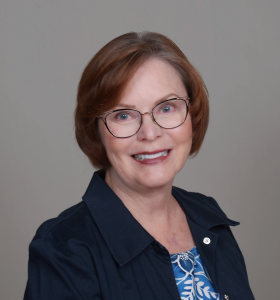 Greetings!
I am excited to be your President this year, 2022-2023. Better yet, I have two talented and experienced women who will be the president elects. Heather Abushanab and Marilyn Shankar will be sharing the job of president next year. We are all, indeed, lucky.
At the June 4th branch meeting, a new roster of Board Members was installed by Kay Dobbertin. Thanks to all the awesome members who are willing to be a part of this year's AAUW Board. Welcome all!
Title lX is turning 50 and has been "under siege." Our speaker, Alicia Hetman, was inspiring to listen to. Time to write letters and petition President Biden. Become a Two-Minute Activist to make sure your voice is heard. Here's how: Go to our AAUW National website, sign in, click on take action, scroll down to Two-Minute Activist, sign up. We all need to stand up and be counted, now more than ever. Buy Title lX postage stamps. Become involved in the solution as we continue to push.
AAUW participated in the Juneteenth Celebration at Sylvan Park on June 19th. Many of our Branch members volunteered to be with me there to promote AAUW in the community. It was well done, a beautiful day, and the atmosphere of love and support was everywhere. Thanks to all the women who donated some of their Father's Day to join in. A special thank you to Amy Bisek for lending AAUW all her talents, which are many, to our Juneteenth participation. She designed the cards, the sticker for the fans handed out, the incredible poster, which we'll bring to our meetings, and the updated flyer. It was her easy up, baskets, and attention to detail that helped. She even supplied water.
Looking towards the fall, our first meeting, September 6th at 5:30 pm, will be our 75th Diamond Anniversary. We are overdue for the celebration. Our chapter was started in 1947. Plans are in the works and you will want to be there. Our next meeting after that will be October 8th. It will be our annual membership meeting. More information on the September and October meeting is on page 3. If you are a member who needs a ride to our branch meetings, call me or email me and we will all try to find a buddy to bring you. Also in October will be our Footlighters fundraiser. Bring friends. It's a fun, social
event for us.
One of my goals this year is to get everyone, who wants to, become involved in helping AAUW operate. If that's you, we are going to be advertising in Branches and Twigs as to what help is needed. Please feel free to email me at if you would like to help in some way.
I'm looking forward to a great year and representing you as President.
Patricia Stubbs,
President, AAUW Redlands
View our most recent meeting: 
News
If you are interested in joining AAUW, or have questions, please contact us at membership@aauw-redlands-ca.org!  
Want to donate to Redlands AAUW without it costing you a penny! Use Amazon Smile, here's how!