Redlands AAUW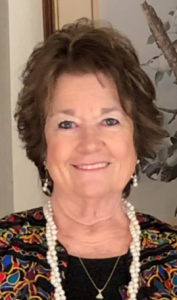 Dear Members of Redlands AAUW and Interested Readers:
My name is Marie Mitchell, and it is my pleasure to serve as your president this year. Along with our Vice President, Sue Wallace, and the remarkable women who are on our Board, we look forward to a successful year of challenges met!
I have been a member of AAUW for the past 12 years.   During that time I have had the pleasure of working with Dorothy Richardson when she was Chair of the Membership Committee; of serving two years as Corresponding Secretary; and enjoying my role as a mentor to my two dear CHAT partners through the Adult Literacy/CHAT Community Action Project.  I have also participated in many of our interest groups, including, International Affairs, and I Think, Therefore I Am.
Next year, 2020, we celebrate the Centennial of Women's Right to Vote. Yet we know that this victory was just the beginning of our quest to secure gender equality. There is still so much more to achieve!
My wis for this coming year is that you, as AAUW members, will continue to enjoy all that AAUW offers, secure in the knowledge that, together we WILL go far (from the African proverb, "If you want to go fast, go alone, but if you want to go far, go together.")
The American Association of University Women (AAUW) is the nation's leading voice promoting equity and education for women and girls. Since our founding in 1881, AAUW members have examined and taken positions on the fundamental issues of the day-educational, social, economic, and political.
MISSION: to advance gender equity for women and girls through research, education, and advocacy.
VISION: Equity for all
VALUES:  Nonpartisan.  Fact-based. Integrity.  Inclusion and Intersectionality.
Should you be interested in joining AAUW, or have any questions, please contact us at: membership@aauw-redlands-ca.org
Marie MItchell
President, AAUW Redlands branch
News
2020 Nancy Yowell Scholarship application available now. Chick here.
Want to donate to Redlands AAUW without it costing you a penny! Use Amazon Smile, here's how!