Redlands AAUW   
A message from the President of AAUW
2021-2022 Membership Forms are available now. Click here.
Dear AAUW Girl Gang,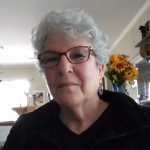 Our November 6th Branch Brunch meeting was a tremendous success. Our speakers, Judith Ashton and Jan Harvey from CCL (Citizens Climate Lobby) presented some great information about the state of climate change and what proposed bills may be able to mitigate against future deterioration of our planet. They answered some very hard and pointed questions posed by our smart and educated members. I also want to thank Nancy White for her beautiful tribute to Shirley Harlan, one of Redlands early feminists, who died recently at the age of 92.
We took in $3201 from Boutique purchases and donations for the Nancy Yowell Memorial Scholarship Fund. Our inaugural use of SQUARE went remarkably smoothly and was used to pay for Boutique purchases and meals. At branch meetings, you can use your credit cards for meals, membership fees, making donations, buying tickets to various fundraisers, and other financial interactions that come up. We are slowly tip-toeing into the 21st century.
December's branch meeting will be our Holiday festivities, with harpist Kristen Cameron serenading us. Thanksgiving is just around the corner, and I wish you all a wonderful family-filled time. I will be out of town for the December meeting, so my terrific right-hand woman, Tricia Stubbs, will be running the show.
To all of you a HAPPY CHRISTMAHANNUKWANZAKAHSOLSTICE!! Erica
President, AAUW Redlands branch
News
If you are interested in joining AAUW, or have questions, please contact us at membership@aauw-redlands-ca.org pr follow us on our facebook page, AAUW Redlands.
Want to donate to Redlands AAUW without it costing you a penny! Use Amazon Smile, here's how!