Redlands AAUW   
A message from the President of AAUW
2021-2022 Membership Forms are available now. Click here.
Dear AAUW Friends,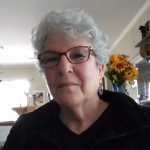 I hope you had a good Holiday Season with face-to-face gatherings with family and friends. I'm sorry I missed our December music meeting and remembering Nancy Ruth White, whose passing was so unexpected and came so shortly after her heart-felt tribute to Shirley Harlan. Nancy was a dear friend of mine, and I will miss her terribly. I hope to see many of you at her
memorial on January 8th at the United Church of Christ in San Bernardino. I had a wonderful week in Acapulco with my friend Geri Stahly and our husbands. Acapulco is beautiful and feels very safe. It is amazing how conscientious the Mexicans are about vaccinating, wearing masks, and social distancing.
I'm looking forward to our January 11th speaker, Twillea Evans-Carthan, who is Director of Ombud services at CSUSB, and will be talking about Diversity and how we at AAUW can elevate our goals of becoming a more diverse branch.
This year, 2022, (barring a surge of the Omnicrom variant) should be an exciting year. Here are a few of the groups that are marching ahead. Marie Mitchell led us on the Redlands Veterans' Day Parade. Ann Leonard and Linda Browning once again did a great job of organizing the YMCA Holiday Home Tour. I know for sure that Reading and the Rainbow has a great list of books to read and discuss. New members are welcome and should email Amy Bisek or Kathryn Brown. I am, therefore I Think has interesting discussions planned. January's topic is "What is on your Nightstand…books or other things?" Contact Toni Momberger or Barbara Simmons if interested in joining. Racial Justice will start up again in January with "Diversity" as our focus. Contact Erica Wilson if interested in joining. Public Policy is working on making ours a 5-star Branch. We already do a lot that we have never been acknowledged for. Contact Cassie MacDuff if you want to help us be recognized for all the amazing things we do.
We are an extraordinary group of women, and I'm looking forward to a great up-coming year. HAPPY NEW YEAR TO ALL.
President, AAUW Redlands branch
News
If you are interested in joining AAUW, or have questions, please contact us at membership@aauw-redlands-ca.org pr follow us on our facebook page, AAUW Redlands.
Want to donate to Redlands AAUW without it costing you a penny! Use Amazon Smile, here's how!